Episode 11
download Episode 11 here
Episode 11
there will 6 part each
or FULL EPISODE from youtube Episode 11 here
Impression :
so salute for Yeo Wool that so sincere for kangchi..it's too amazing that I can't stop but cry..
Yeo Wool is.. you know, from beginning so kind and beautiful...
in the other said, feel pity for Gon - Gwaenchana Gon oppaa!! you are the best! :D -
Its somehow great you know, talk things about fate..
as ever.. This drama is THE BEST!! :D
Episode 12
Youtube FULL EPISODE
Click here
Or in
this site
for better quality
Impression :
As time passes, my heart is touched by Yeo wool.. It's great that her life is so well loved and love people so well....
Kangchineun... feel more pitiness again, it's right that it isn't his mistake for being monster, right? :D
And for Choongjoo.. Ah.. I can't say anything...
It's sooo.. ah.. like thatlah pokoknya... @,@
AN THE STORY GETTING MORE AND MORE INTERESTING and I CANNOT WAIT FOR THE NEXT EPISODE..
wanderr.. Who is the four master, who is the Japan Japanesess that has just arrived,
and of course wanderr about Kangchi and Yeowool love line..
Ow wo.. I also can't wait to seeee Kangchi's Father, Wol Ryung, Huwaa!! >//<
Episode 13
Annyeeeonng!! :D
hehe
I have just finished watching episode 13, otte? it is quick, right? palli, macchi? :D
Yeah, I am FREE TODAAYY!!
Because of the upcoming National Exam Announcement (UN 24 May), so I and all my friends are having a holiday, keke
with the help from smartfrent modem's fast connection( It is almost never happen sih) and somehow I woke up early morn today,
Soooo...
I have finished it just now.. *celebrating* :DD
Omoo..
Here is to download Episode 13, Click here
Impression :
SAW THE PICTURE???!! BOPASSOO??? XD
FINALLY!! Suzy Eonni wear that neomu Areumdaum traditional Hanbook!
omonaa...
Sireen.. (Actually), From the beginning, I have wondered if Suzy Eonni will ever use Hanbook because Yoo Bi(Choongjo)'s Hanbooks are all so awesome..
The colorr is.. Waw~! :D
It Happenned!!! She wore it! keke
Me too, is wondering when I will wear Hanbook, hehe
:3
Geurigoo,,
Always fascinated to see Yeo Wool and Gon.. :D
Gon opaaa is soooo cute, huohoo..
andd!!
Finallyy!! Wol Ryung Is come baaackk!!
Its okay if he is evil or no, as long as he exist,
wuewuekwuek.. :D *ngaco mode on*
Again and always, I feel so much pity on Tae Soo and Choongjoo..
Oh iyaa!!
Who is the woman that merchant merchant? O.o'' It looks like she is very important..
And, finally I know the other two master.. hihi
Park Moo Sol and... tengteng ntenggg
Yippeeoo?? :D
Suzy Eonni's expression is very cute here, hehe
Episode 14
Yuhuuu!!
It's late night.. -_-
I am a bit late to download episode 14..
Kendeu, The most important is I have Finishhh ITT!!
:D
You can download it In Youtube here
Or in this site for better Quality.. :D
Impression :
HUWAAA! Wol Ryung oppa really becomes an 1000 year demon.. Dx
Its okay sih, as long as Wol Ryung oppa smile.. (huweek) :p
But, but, this Dam Pyeong Joon Ahjussi is so determined to part Yeo Wool and Kangchi deh..
Even he arranges a Marriage between Yeo Wool and Tae Seo..
Hikhik..
Sad seeing Yeo Wool eonni cry..
Arraa, macci? You have known, right? that the last four master is Head Mistress Chun, hehe
Complete deh.. ;D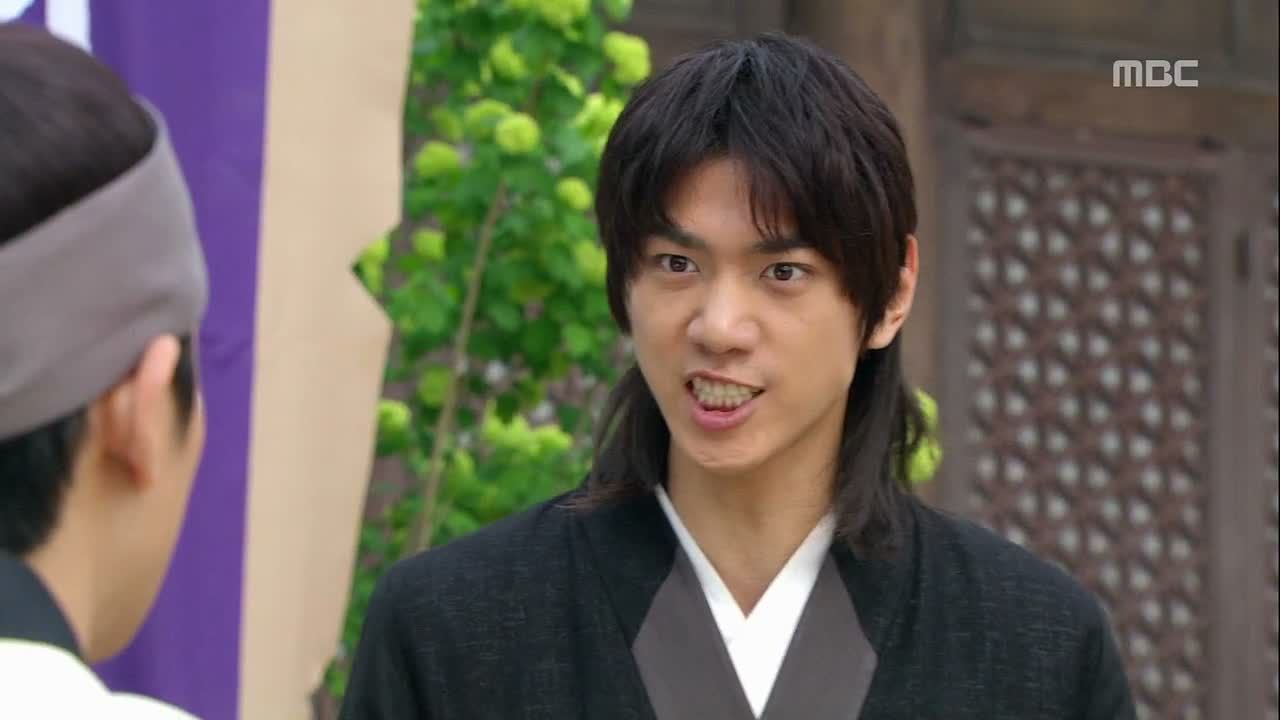 Gon opppa...
I love Gon Oppa when He is speaking, He talking so fast but really weird and fun, hehe..
But..
Hhh.. Its so sad seeing Gon oppa that was really loyal and sincere with Yeo Wool Eonni...
choongjoo? I think she is really strong, even sitting in front of That neomu nappeun ahjussi
And.. Really Seo Hwa~neun?
That japan merchant merchant? She has the same tattoo..
Oh.. If it is true, Gu family book will be more tense and COOL!! :D
Episode 15
You can download it
Episode 15
Omoo.. Omo..
It is so sweet when Seunggi give Yeo Wool flower.. *o*
And..
Finallyyy!!
Lady Miyamoto show he face,, yuhuu~